New strings album OUT NOW:
Jacob Anderskov: RESONANCE
My second album with the Strings, Percussion & Piano ensemble:
Jacob Anderskov (p), Karen Johanne Pedersen (vln), Mette Brandt (viola), Ida Nørholm (cello), Peter Bruun (d, perc).
What Reason Could I Give/ Resonance/ 8th Avenue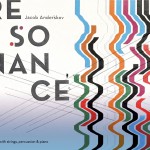 Tranquility/ Capone/ Alpha/ Impermanence II/ Portrait/ Open Society. _ Label: Sundance / Stunt. Release: September 2016.